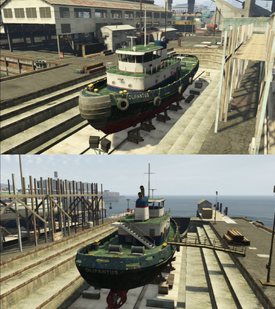 The Olifantus is a diesel-electric tugboat found on Elysian Island in Los Santos. Situated in a dry dock, the boat features a hawser, capstans, tire fenders, "H" bits, lifebuoys and a navigation light. 
Trivia
A letter scrap can be found in front of the wheelhouse window.
Oddly, a shipwreck of a tugboat in the Pacific Ocean is also named the Olifantus.
There is another tugboat docked inside the Port of Los Santos boathouse. It is also named Olifantus.
Its name may be based on the Oliphant, giant elephants in the Lord of the Rings, also named Mumakil.
Its name could come from the Dutch word "Olifant" which means elephant.
See Also
Ad blocker interference detected!
Wikia is a free-to-use site that makes money from advertising. We have a modified experience for viewers using ad blockers

Wikia is not accessible if you've made further modifications. Remove the custom ad blocker rule(s) and the page will load as expected.