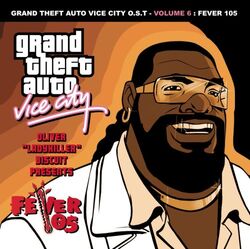 Oliver "Ladykiller" Biscuit is a character in Grand Theft Auto: Vice City and is the host of Fever 105 in 1986. His appearance and voice is heavily based on legendary soul singer Barry White. His name could be one of several puns such as "I'll have your biscuit", as he's large in size and frequently discusses the food he eats on the show.
In Grand Theft Auto: Vice City Stories, he is mentioned by Fresh 105 DJ 'Luke' who comments that Oliver is trying to buy the radio station and that he won't succeed, but in the 2 years that pass, he buys Fresh 105 and changes it to Fever 105.
He is voiced by Julius Dyson.