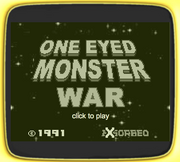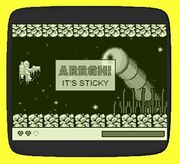 One Eyed Monster War is a video game for the handheld console eXsorbeo, which was released in 1991 and mentioned in Grand Theft Auto: San Andreas. A sample version can be played on the eXsorbeo official site.
The game itself is another of the various Rockstar sexual jokes, as "One Eyed Monster" is one of the several nicknames given to a penis. In this game, the player is required to move an astronaut character up and down, simulating masturbation, while the One Eyed Monster shoots "sticky goo" at him. Its slogan "Fight a big angry monster until you strangle the life out of it!" reinforces the innuendo.
One Eyed Monster War is mentioned once again in Grand Theft Auto: Liberty City Stories: a caller on Nurse Bob's show on Liberty City Free Radio complains that his girlfriend moans about him playing the game too much. It is unknown if a sequel was ever released.