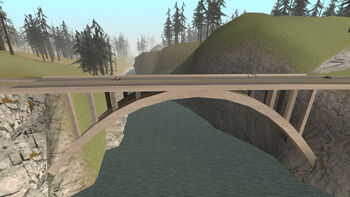 Oram Bridge is the road bridge in Grand Theft Auto: San Andreas that connects Whetstone to southern Flint County in the State of San Andreas, south from San Fierro. It is a short open-spandrel arch bridge extending over the narrow water channel that physically separates Whetstone from Flint County, and is part of the highway that runs through Flint County and Whetstone, connecting Los Santos to San Fierro.
The bridge is comparable to the Bixby Creek Bridge in Big Sur, California, located just south of San Francisco. While similar in design, the Bixby Creek Bridge sports additional buttresses on both ends of the bridge, a feature which is absent in the GTA San Andreas rendition. A more similarly designed bridge would be the Russian Gulch Bridge situated north from San Francisco, along the same highway that passes the Bixby Creek Bridge.
Collectibles
One Oyster - Under the bridge.