This article or section contains insufficient information and is considered as a Stub. You can help GTA Wiki by expanding it as much as you can.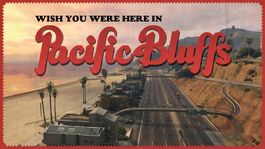 "Home to the world-famous Kortz Center museum, Pacific Bluffs is an openly liberal, secretly conservative family community for really rich people. Where the person in a 2-million dollar house gets laughed at..."
―GTAV digital manual
Pacific Bluffs is a neigborhood in north west Los Santos, it is north of Del Perro.
Character
Events of GTA V
Influence
It is based off Pacific Palisades.
Notable residents
Transport
Roads and Streets
Places of interest
Businesses
Collectibles
Trivia
Gallery