This article or section contains insufficient information and is considered as a Stub. You can help GTA Wiki by expanding it as much as you can.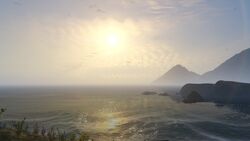 The Pacific Ocean is a large ocean encircling the entire state of San Andreas in Grand Theft Auto V. It is located on the western coast of the United States of America.
Events of GTA V
Outside rivers and canals in the middle of the state, the Pacific Ocean serves for swimming, scuba diving, and sea racing side-missions.
Mission Appearances
GTA V
GTA Online
Inhabitants