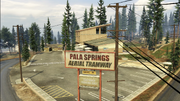 Pala Springs is a tramway station in Grand Theft Auto V. It features an Aerial Tramway, similar to the Skycar found in Grand Theft Auto IV. The area can be accessed via the entrance off the Great Ocean Highway and Procopio Promenade near the Paleto Forest. There is a bike shop next door, possibly for mountain bikes like Scorcher.
Influence
It is most likely based on Palm Springs, California which is known for its famous Aerial Tramway.
Trivia
In the peak of Mount Chiliad, there is a shed in which Pala Springs operates.
"Pala" means shovel or spade in Spanish and slate in Hungarian.
Gallery