This article or section contains insufficient information and is considered as a Stub. You can help the GTA Wiki by expanding it as much as you can.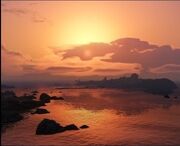 The Paleto Cove is a body of water in Grand Theft Auto V. It is located off the northern coast of Blaine County, near Paleto Bay and west of the Paleto Forest. Since the water is slightly cooler than the waters of Los Santos it is very shark infested.
Businesses
Gallery
Ad blocker interference detected!
Wikia is a free-to-use site that makes money from advertising. We have a modified experience for viewers using ad blockers

Wikia is not accessible if you've made further modifications. Remove the custom ad blocker rule(s) and the page will load as expected.