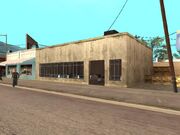 The Palomino Creek Diner is a diner featured in Grand Theft Auto: San Andreas located in the town of Palomino Creek, Red County, San Andreas. It is accessible to the player simply by walking into the open door (as is the case with interiors in Grand Theft Auto: Vice City) instead of walking through a yellow marker and getting teleported inside. It shares a building with the Palomino Creek Bank; both are empty, with boxes of rubbish scattered in the space at the back of both establishments.
Gallery
Ad blocker interference detected!
Wikia is a free-to-use site that makes money from advertising. We have a modified experience for viewers using ad blockers

Wikia is not accessible if you've made further modifications. Remove the custom ad blocker rule(s) and the page will load as expected.