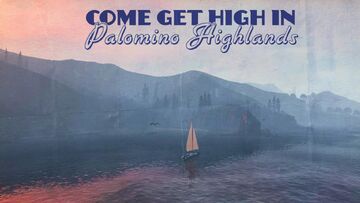 "Keep going east from East Los Santos until you can't hear the gunshots anymore and eventually you'll hit the Palomino Highlands. With views of National Office of Security Enforcement and the Murrieta Oil Fields, you'll never feel further away from liberal Los Santos."
―GTA V Manual
The Palomino Highlands is a hilly, undeveloped region located in southeast of Los Santos County. It is bordered by the Pacific Ocean to the east, and by the Palomino Freeway and the city of Los Santos to the west.  
Description
These highlands are less in the form of mountains but more in the form of low hills and moors, however they still offer great views from the summits that look over the city, and on clear days right up to the Vinewood Hills and the mountains of Blaine County. 
Places of Interest
Underwater steamship wreckage
Roads and Streets
Collectibles
Health Pack - inside a cavern, located at the end of a dirt road just southeast of NOOSE Headquarters
Gallery
Ad blocker interference detected!
Wikia is a free-to-use site that makes money from advertising. We have a modified experience for viewers using ad blockers

Wikia is not accessible if you've made further modifications. Remove the custom ad blocker rule(s) and the page will load as expected.