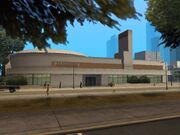 Papercuts
is a company operating in the 
State of San Andreas
 in 
GTA San Andreas
. It specializes in office supplies and the company's slogan is "Let us fill your office." The company has several locations; a flagship store in 
Verona Beach
, 
Los Santos
; a store in 
Montgomery
, 
Red County
 and an outlet in a mini-mall in 
Market
, 
Los Santos
.
Strangely, the outlet in the commercial neighborhood of Market in Los Santos is located in a separate mini-mall rather than the nearby, and larger, Verona Mall. Though this was likely a business choice made by the company.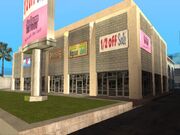 Papercuts also appears to be a small chain with at least three stores found in-game. The company's name is a reference to the minor injury 'paper cuts' that are caused by handling paper products. The name is also another example of Rockstar's humor with the company's slogan referring to wide spread paper cuts caused by the company's products.