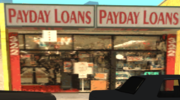 PayDay Loans is a financial services business offering loan payments to its customers. The company name refers to 'pay day', a day when working men and women receive their weekly wages i.e "It's pay day today".
The company seems to be a small time, local business with it's sole premises located on Mulholland Drive in Richman, Los Santos and the town of Palomino Creek located in Red County in the State of San Andreas.
Ad blocker interference detected!
Wikia is a free-to-use site that makes money from advertising. We have a modified experience for viewers using ad blockers

Wikia is not accessible if you've made further modifications. Remove the custom ad blocker rule(s) and the page will load as expected.