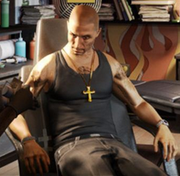 Pedro Luna is a character in Grand Theft Auto V and a member of The Vagos.
Description
Pedro is a Mexican man, who appears to be a member of The Vagos.
He is a customer of Ink Inc. and in the official game website, it is revealed he only goes to their stores to get tattoos at a cheap price.
There is a pedestrian in Rancho, Los Santos that resembles him.
Trivia
His name could possibly be a reference to Peter Moon, a Hawaiian Musician. Peter is translated from "Pedro", along with Moon from "Luna".
Ad blocker interference detected!
Wikia is a free-to-use site that makes money from advertising. We have a modified experience for viewers using ad blockers

Wikia is not accessible if you've made further modifications. Remove the custom ad blocker rule(s) and the page will load as expected.