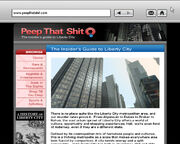 Peep That Shit is a tourist information board found on the internet in Grand Theft Auto IV. Their information can be found on their website www.peepthatshit.com.
Description
The site focuses on giving information to tourists within Liberty City, such as eateries, shopping locations, strip clubs and other places of interest. Its based on real-life travel guide website www.concierge.com.
Bars & Restaurants
Algonquin
Broker
Dukes
Alderney
Other
Nightlife & Entertainment
Comedy
Strip Clubs
Theaters
Soak In The Sights
Algonquin
Bohan
Broker
Dukes
Alderney
Shop Till You Drop
High Fashion
Street Fashion
Hip Hop
Sport
Outdoor
Skate
Shoes
Department Stores
Jewellry & Watches
Electronics
Sports & Activities
Sports
Dating
Museums
Hotels
Ad blocker interference detected!
Wikia is a free-to-use site that makes money from advertising. We have a modified experience for viewers using ad blockers

Wikia is not accessible if you've made further modifications. Remove the custom ad blocker rule(s) and the page will load as expected.