MANUFACTURER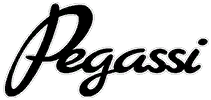 Pegassi is a luxury Italian automotive manufacturer in the HD Universe.
Overview
Pegassi is based on the Italian supercar manufacturers Lamborghini and Pagani, as well as the Italian motorcycle manufacturers Ducati and Piaggio. Coincidentally, in 2012, 4 years after the release of Grand Theft Auto IV, Lamborghini bought Ducati. The FCR 1000 and its custom variant is based on the BMW bike, showing no resemblance to any real-life Ducati bikes.
Vehicles
Trivia
The moniker "Pegassi" is believed to be derived from Pegasus, a winged horse in Greek mythology. The logo features a horseshoe placed in between a pair of wings.
The Faggio was manufactured by Pegassi in GTA IV and in GTA V; after the update to 1.06 however, it was changed to Principe.
The manufacturer is misspelled "Pegasi" in the audio files for GTA IV.
Vehicle Brands in the HD Universe
Ad blocker interference detected!
Wikia is a free-to-use site that makes money from advertising. We have a modified experience for viewers using ad blockers

Wikia is not accessible if you've made further modifications. Remove the custom ad blocker rule(s) and the page will load as expected.