MANUFACTURER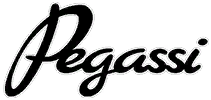 Pegassi is a luxury Italian automotive manufacturer in the HD Universe.
Overview
The Pegassi is a play on the Italian supercar manufacturers Lamborghini and Pagani, as well as Italian motorcycle manufacturer Ducati. Only one of their cars is featured in GTA IV. In the downloadable content for GTA IV, The Lost and Damned, two of their bikes are also featured.
Vehicles
Trivia
Perhaps coincidentally, there is a Spanish car manufacturer called Pegaso which briefly produced supercars during the 1950's.
The logo is similar to the Lamborghini logo.
The name Pegassi is an indirect knockoff of the Ferrari horse emblem. Pegassi is believed to be derived from the word 'Pegasus', which is a greek mythology for a winged horse creature. The logo on the other hand features a horseshoe placed in between a pair of wings.
References
Vehicle Brands in the HD Universe