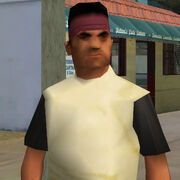 You may be looking for Pepe, host of Radio Espantoso, or Pepe from GTA 1
Pepe is a member of the Cubans gang in Grand Theft Auto: Vice City. During the mission Trojan Voodoo, Umberto Robina tells Tommy Vercetti to get a Haitian Voodoo and return for Pepe, who then destroy the Haitians processing plant. During the mission, Pepe can be killed, but nothing will change in the game storyline. Pepe says he has a girlfriend in the area and likes the pizzas of the local pizzeria.
Pepe was voiced by Tony Chiroldes.
Mission appearances
GTA Vice City