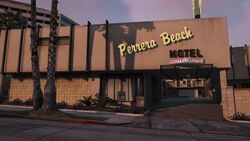 The Perrera Beach Motel is a motel located next to Sumac Restaurant on the corner of Marathon and Bay City Avenue in Del Perro, Los Santos. The business provides five dollar public parking, a small swimming pool and Rainé and Sprunk vending machines.
Influence
It is based on the Pacific Sands Motel in Santa Monica, California. 
Gallery
Trivia
In Spanish, "perrera" translates to "dog pound".
Sometimes, when the player switches to Michael, he can be observed walking out of the motel, saying to himself, "I can't do this anymore", hinting that he was probably with a prostitute.