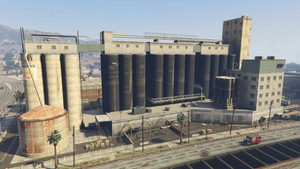 The Pißwasser Factory is a large factory in Grand Theft Auto V that handles the manufacturing and processing of Pißwasser bottles. It is located at the intersections of Innocence Boulevard and Popular Street (just across the street from Fridgit), as well as Orchardville Avenue and El Rancho Boulevard in Cypress Flats, Los Santos. It is not accessible, and plays no role in the storyline whatsoever.
Collectibles
Gallery
Influence
The factory itself is based off the Centennial Mills, a Flour Mill located on 1542 Calada Street, Los Angeles.
Ad blocker interference detected!
Wikia is a free-to-use site that makes money from advertising. We have a modified experience for viewers using ad blockers

Wikia is not accessible if you've made further modifications. Remove the custom ad blocker rule(s) and the page will load as expected.