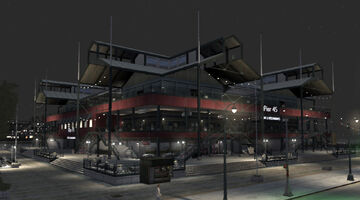 Pier 45 is a shopping centre in Liberty City, located in Fishmarket South off Flatfish Plaice, on the lower east side of Algonquin.
Description
Based on New York City's Pier 17 Pavilion at the South Street Seaport, Pier 45 is a converted pier and pavilion containing different types of restaurants and shops (not to be confused with advertising boards hung along parts of the building's corridor that include brand names such as Bean Machine, Fanny Crab's, Gnocchi, Memory Lanes and Rimmers). Pier 45 is a must see for tourists, offering great views of the Humboldt River and the Broker Bridge.
Pier 45 is only a short distance north from the Higgins Helitours helipad and Castle Gardens.
Vendors and Vending Machines are present at the Pier, which the player can pay a few dollars to replenish their Health . 
Trivia
See also