This article needs more images, because:


Current Design Gallery.




You can help by adding some relevant images or discussing changes on the talk page.
Please remove this template when images are added.
Note: Please remember to follow our image policy in naming and licensing before adding images.
"French design and Italian construction, so expect style over substance and regular breakdowns. The Pigalle, a high performance coupé, is an icon of 70s motoring and bad taste. No wonder the ironically disposed love it."
―Southern San Andreas Super Autos description.
The Lampadati Pigalle is a two-door vintage luxury coupé featured in the "I'm Not a Hipster" Update for Grand Theft Auto V and Grand Theft Auto Online.
Design
Grand Theft Auto V
The Pigalle is based on the European styling of the Maserati Merak and Ghibli I, while its front fascia, headlights and hood design are derived from the Citroën SM. Its rear fascia most closely resembles that of the Ghibli I. It is presumed that the Pigalle was manufactured some time between 1970 and 1980 as it features yellow headlights, a feature common on French vehicles at the time. Unlike other vehicles, the Pigalle has a unique European license plate in the grille.
Current Design Gallery
Performance
Grand Theft Auto V
Overall, the Pigalle is better performing than its initial appearance may imply. It has good acceleration for the class, but Super-level top speeds. It handles nicely because of higher traction than other Sports Classics, attributed to its reduced engine power and low center of gravity. However, the front wheel drivetrain limits the car's turning circle and overall handing, especially at speed. Understeer is an issue with the Pigalle, but it isn't as punishing as other Sports Classics when attempting to carry speed. The braking distance is remarkably good for a sports classic. Crash deformation is acceptable.
If turbo is installed on the Pigalle, it will feature compressor surges (creating a fluttering "whistle" sound) rather than a blow-off valve (which creates a distinct "hiss" sound when letting off the accelerator). This also occurs with the Warrener.
GTA V Overview



Vehicle Statistics - Grand Theft Auto V

Acceleration
(0-60 mph in Seconds)
Top Speed
(mph / kmh)
Gears
Engine
Drivetrain
(FWD / RWD / AWD)
Mass
(kg / lbs)
Fuel Tank
Size (litres)

Handling.dat

N/A
93 / 149
5
N/A
FWD
1500 / 3307
65

Website Statements

[?]

/ Badges

N/A
149 / 240
N/A
N/A
N/A
N/A
N/A

Observed / First-Person Speedometer (Enhanced version)

7.3 Seconds
130 / 209
5

FF

SOHC

V8 (In-game model)
FWD
Cannot be observed
Cannot be observed

Rockstar Games Social Club

Speed
Acceleration
Braking
Traction
Modifications
Grand Theft Auto V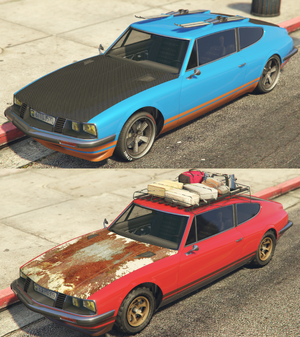 Category
Modification
Price (Story Mode)
Price (Online)
Armor
Armor Upgrade 20%
$1,625
Armor Upgrade 40%
$4,062
Armor Upgrade 60%
$6,500
Armor Upgrade 80%
$11,375
Armor Upgrade 100%
$16,250
Brakes
Street Brakes
$6,500
Sport Brakes
$8,775
Race Brakes
$11,375
Engine
EMS Upgrade, Level 1
$2,925
EMS Upgrade, Level 2
$4,062
EMS Upgrade, Level 3
$5,850
EMS Upgrade, Level 4
$10,887
Exhaust
Chrome Tip Exhaust
$375
$712
Big Bore Exhaust
$899
$1,710
Hood
Carbon Hood
$850
$
Rat-Hood
$1,200
$
Rat-Hood & Bra
$1,450
$
Lights
Xenon Lights
$1,000
$
-
-
Respray
-
-
Roof
Small Roof Rack
$350
$665
Large Roof Rack
$575
$1,092
Empty Roof Rack
$800
$1,520
Alpine Roof Rack
$975
$1,852
Spoiler
Rear Louvers
$750
$6,697
Suspension
Lowered Suspension
$500
Street Suspension
$1,000
Sport Suspension
$1,700
Competition Suspension
$2,200
Transmission
Street Transmission
$9,587
Sport Transmission
$10,562
Race Transmission
$13,000
Turbo
Turbo Tuning
$8,125
$
Wheels
-
-
Windows
Light Smoke
$200
Dark Smoke
$450
Limo
$700
Image Gallery
Prominent Appearances in Missions
Grand Theft Auto Online
Appears during the mission Time to Get Away. However, it is unobtainable outside of the mission. Furthermore, it is not always spawned in the mission.
Locations
Grand Theft Auto V
Original version
Appears in the player's garage in single player.
Enhanced version
Grand Theft Auto Online
Trivia