The Annis Pinnacle is a 4-door sedan/ saloon in Grand Theft Auto IV.
Design
The Pinnacle is mostly based on the sixth generation
Nissan Maxima
.
The rear resembles a 2004-2008 Nissan Maxima, while the front end resembles a
2003-2008 Nissan Teana
. The area around the back license plate is arranged similarly to those on many older
Infinitis
and
Mitsubishis
. The car as a whole bears many similarities to the
Ford Five Hundred
. Instead of fog lights, the Pinnacle is equipped with daytime running lights where the lights are always on regardless of time of day similar to those of
second generation Acura MDX
. The name "Pinnacle" may be a play on "Maxima", as both of the names suggest an uppermost extreme.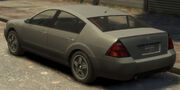 Performance
The Pinnacles 3.5L V6 is coupled to a 5 speed gearbox in an FR drivetrain layout. The engine pulls strongly, launching the vehicle off the line quickly to 60 mph in 9.4 seconds and giving it a top speed of 285 km/h (177 mph). Braking is adequate but not great, often requiring great distances to come to a complete halt; ABS is an optional equipment. The suspension is firm, but due to its shallow maximum wheel angle, the Pinnacle corners very poorly even at slow speeds. The ride is very firm, and unsettled. Engine build quality is mediocre, causing the engine to fail after only a few frontal impacts; pedestrian safety is also poor with a high chance of the pedestrian being crushed. The windows are big enough for a person to fairly easily shoot the occupants. In the frontal offset, the front occupants have a 40% chance of winshield ejection, which is acceptable for its class.
Locations
The car can be spotted in northern Alderney, but may also spawn in BOABO, Broker and Varsity Heights, Algonquin.
Trivia
The two default radio stations in the Pinnacle are The Beat 102.7 and The Classics 104.1.
Although the Pinnacle has a V6, it has the same V8 sound as the Feltzer.
The badging on the car says 3.5Z, it's an obvious reference to the Nissan Maxima, since all sixth generation Maxima's feature 3.5l engines. It also references the Nissan 350Z.