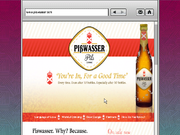 piswasser.com is the official website for Pißwasser beer. The site has information about the beer, several articles on how to enjoy the beer socially, as well as drinker testimonials. While the company recommends skipping dinner before drinking, Pißwasser has partnerships with various fast-food outlets.
Ad blocker interference detected!
Wikia is a free-to-use site that makes money from advertising. We have a modified experience for viewers using ad blockers

Wikia is not accessible if you've made further modifications. Remove the custom ad blocker rule(s) and the page will load as expected.