This article is about console family. For the original console of the family, see PlayStation 1.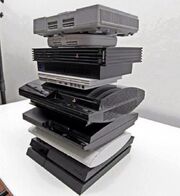 Wikipedia
The PlayStation (abbreviated PS) brand is a line of video game consoles created and developed by Sony Computer Entertainment. It was first introduced by Sony Computer Entertainment in Japan on December 3, 1994.
Systems
Official Websites
Systems
Fifth generation consoles
Sixth generation consoles
Seventh generation consoles
Eighth generation consoles
Non-console platforms
Console families

PlayStation

Manufacturers
Ad blocker interference detected!
Wikia is a free-to-use site that makes money from advertising. We have a modified experience for viewers using ad blockers

Wikia is not accessible if you've made further modifications. Remove the custom ad blocker rule(s) and the page will load as expected.