Wikipedia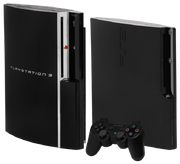 The PLAYSTATION 3, PlayStation 3 or PS3, is the successor of the PlayStation 2, and the predeccessor of the PlayStation 4. It is in direct competition with the Xbox 360 and the Nintendo Wii. The PS3 was released on November 11, 2006 in Japan, and November 17, 2006 in North America.
It features a hard drive (20GB, 40GB, 60GB, 80GB 120GB, 160GB, 250GB or 320GB depending on the model), much improved CPU, easy hard drive expansion, high definition graphics, advanced online gaming capabilities, blu-ray media, wireless "SIXAXIS" or "DUALSHOCK 3" controllers, interaction with a PlayStation Portable (PSP) system through Wi-Fi and much more. It is also the only current-generation console to offer region-free games.
Dan Houser has stated during an IGN interview that the reason there releasing there upcoming video game Grand Theft Auto V on the PS3 and Xbox 360 in spring 2013 (instead of releasing it on a future gaming platform), is because they believed that these platforms still hold a ton of amount of power and capablity in them, which is why Rockstar is planning on squeezing it out in GTA V and there future video games too.
Grand Theft Auto games