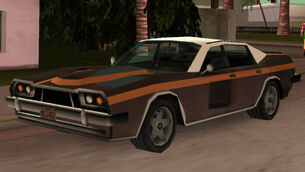 The Polaris V8 is a 4-door muscle car in Grand Theft Auto: Vice City Stories.
Description
The Polaris, with its strongly 1970s-like design, appears to resemble a Ford Maverick or an AMC Matador muscle coupe, but both cars are two-doors and feature only a pair of single headlights, as opposed to the Polaris' four doors and pair of dual headlights. The car is only available in one color scheme, a black body with orange stripes and a white roof.
In terms of engine power, the Polaris V8 is a good muscle car, due to its implied V8 engine, allowing it to achieve good top speeds courtesy of its good acceleration. While the car may occasionally suffer from burnouts during cornering due to its rear wheel drive and powerful torque, the car is still fairly good in turns, especially when the handbrake is applied. its four-door design is also excellent for those who want to hire gang members to perform drive-bys on enemy gangs.
Location
The vehicle can be found outside of the prostitution businesses and is one of the vehicles needed for the Civil Asset Forfeiture Impound. It first appears parked outside an empire business during the mission Got Protection?; however, the Cholos' heavy drive-bys cause it to blow up.-
-Parked in front of all prostitute businesses owned by the player. -Parked along the road in the northern part of Washington Beach's northern island. Go along the road that extends from the fairground and the Polaris V8 appears in front of the rows of houses. -Parked in front of houses in a dead end just north of the clymenus suite safehouse in Vice point