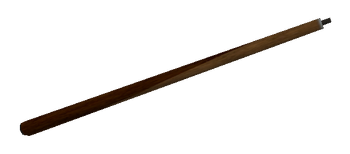 The Pool Cue is a tool and a weapon in Grand Theft Auto: San Andreas and The Lost and Damned. It seems to have the longest reach out of all the melee weapons, but its main use is to play pool.
GTA San Andreas
Challenge someone to a game of pool in a
bar
, and after the game the player can keep the cue as a weapon. Though it is an effective meleé weapon, the player cannot sprint, because of the pool cue's length. The Pool Cue will replace any meleé weapon the player has.
Locations
GTA IV era
In GTA IV, the pool cue is in fact been categorized as a weapon alongside other melee weapons but the use of the pool cue as a weapon was dropped during development. The pool cue may still be used to play pool but cannot be used outside the game, even though it's a functional weapon.
In The Lost and Damned, however, a halfed version of the pool cue can be used as a weapon. Additionally, pool can still be played. However, it disappears from the player's inventory whenever a race is started, as the player is given a baseball bat. Also, the pool cue has no dodging animation which only allows the player to block attacks and also makes it impossible to do melee counters in a fight. Another downside is that the pool cue can't be found in multiplayer.
Locations
Wikipedia