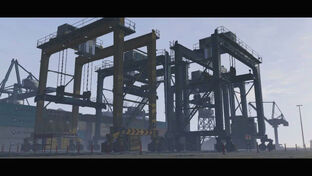 The Port of Los Santos, also known as LS Port, is the major seaport for the City of Los Santos in Grand Theft Auto V.
The port is split into two districts, Elysian Island and the Terminal. Elysian Island is the location of Pier 400 , the Los Santos Naval Port, shipyards, and various warehouses. The Terminal, is a maritime container terminal.
A number of companies seen throughout San Andreas have operations in the port. The port is the where Bugstars Pest Control is located.
The Port of Los Santos resembles the real life Port of Los Angeles.
Gallery