"Featured Article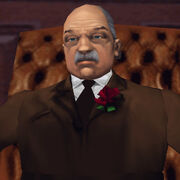 Salvatore Leone (? - October, 2001) is a character from the Grand Theft Auto series, who appears in Grand Theft Auto III, Grand Theft Auto: San Andreas and Grand Theft Auto: Liberty City Stories. He plays a key role in each, and is the Don of the Leone Family, a Cosa Nostra mob family. Salvatore Leone is the father of Joey Leone, a made man in the Leone Family, and the husband of Maria Latore. Salvatore has a brother who lived in Palermo, Sicily during the power struggle, a cousin killed by the Sindacco Family in 1992 and an elderly uncle who appears in Grand Theft Auto: Liberty City Stories. Frank Vincent voiced Salvatore Leone in each of his three appearances. Salvatore Leone is also featured on a poster for a film "Badfellas", a reference to "Goodfellas", which Frank Vincent played a major role in."
Ad blocker interference detected!
Wikia is a free-to-use site that makes money from advertising. We have a modified experience for viewers using ad blockers

Wikia is not accessible if you've made further modifications. Remove the custom ad blocker rule(s) and the page will load as expected.