Featured Article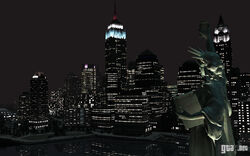 The notorious Liberty City makes a repeat appearance in GTA IV
Liberty City in Grand Theft Auto IV has been remodeled to look much more like New York City compared to its GTA III Era renditions, featuring Broker (Brooklyn), Algonquin (Manhattan), Dukes (Queens), Bohan (Bronx) and Alderney (New Jersey). The total map area is slightly smaller than that of San Andreas, but is immensely more detailed and has no "wasted" open space such as countryside or desert.
Helping Out
Ad blocker interference detected!
Wikia is a free-to-use site that makes money from advertising. We have a modified experience for viewers using ad blockers

Wikia is not accessible if you've made further modifications. Remove the custom ad blocker rule(s) and the page will load as expected.