This article needs more images of:


Current Design Gallery




You can help by adding some relevant images or discussing changes on the talk page.
Please remove this template when images are added.
Note: Please remember to follow our image policy in naming and licensing before adding images.
"When cheap imports flooded the market through the 80s and 90s, the US car industry did what any proud free marketeer would do: grab a government subsidy, snort an exe bonus and crap out a four-door sedan every bit as drab and forgettable as its Japanese counterparts. It's not often you find a canvas this black, to go wild - it's not like 2 tons of street mods are going to ruin the performance. Eligible to customization at Benny's Original Motor Works."
— Description at Benny's Original Motor Works description.
The Primo is a four-door sedan in Grand Theft Auto: San Andreas, Grand Theft Auto IV, Grand Theft Auto V and Grand Theft Auto Online. It is manufactured by Albany in the HD Universe.
Design
3D Universe
In GTA San Andreas, the Primo is one of the better sedans available in the game, although its design is less remarkable and thus appears more generic in traffic. It resembles a fourth generation Toyota Carina, third generation Toyota Cressida, 1987-1990 Toyota Camry or 1985 Honda Accord sedan to some extent. Ideas from the Proton Saga (Saloon) were also believed to have contributed to the Primo in GTA San Andreas, though not really obviously. It somewhat has the style of a 1989-1991 Chrysler LeBaron in side quarter panel not very noticeable though. It may also be based off the Oldsmobile Cutlass Ciera.
Grand Theft Auto IV
In GTA IV, the Albany Primo retains its four-door sedan design, similar to the 1992-1997 Cadillac Seville with the grille, front headlights and taillights of the 1987-1993 Cadillac Allante, but it looks a bit like the 1988-1992 Toyota Cressida.
There are two different styles of Primo. There is a standard middle-of-the-road sedan, and there is also one with a special "Supercharged V8" badge on its deck-lid. The supercharged Primo is lowered with added ground effects and a spoiler. It always comes in maroon, and is the vehicle of choice for members of the Spanish Lords. Despite the "Supercharged V8" badge, it has the same performance as the regular Primo, and sounds just like the regular Primo, which leads us to believe that the effects are purely cosmetic. The Supercharged V8 Primo can usually be found driven in and around Spanish Lords territory, including Cerveza Heights, South Bohan, East Holland and southern Alderney City. If this variant really had improved performance, the engine would most likely be based on the real life Northstar Supercharged LC3. The "supercharged" Primo shares its trunk spoiler with the DF8-90 V8 Turbo.
While not an actual variant, standard black Primos may also be found with the same golden trims as those on the Supercharged V8 variant, the only color scheme for standard Primos to incorporate golden trims.
The Primo is equipped with a GPS system with a male voice, but only if the player leaves the "selected cars" (default) option in the audio menu. After collecting all thirty cars for Stevie, he agrees to purchase cars from Niko Bellic, with the Primo fetching $1,800.
Grand Theft Auto V
"Nothing said 'buy American' when imports were sweeping the States in the 70s and 80s like the Albany Primo. A midsize luxury car that was built to last."
— Southern San Andreas Super Autos description.
In GTA V, the Primo retains this design, and now features extensive bodywork options at Los Santos Customs.
The Primo shares the same rim design with the Seminole.
Current Design Gallery
Version History Gallery
Performance
3D Universe
The Primo is one of the most dependable vehicles in the game, possessing good handling as a result of its lighter weight, fair acceleration and a decent top speed. For that, it is an ideal choice for doing drive-by's against enemy gangs. While relatively acceptable under normal driving conditions, the Primo's axle width may make the car less stable in bumpy conditions. It sports a 3.0 Liter V6 with a horsepower range of 260 HP or a 2.5 Liter 4 cylinder with 200 HP. It has a smaller drivetrain it is RWD for the 3.0 Liter and FWD for the 2.5 Liter. It is capable of a top speed of 130 mph for V6 versions and 126 mph for 4 cylinder versions.
Grand Theft Auto IV
In Grand Theft Auto IV, the Primo is most likely powered by a 4.6L V8 (in real life it would be the Northstar LD8, except it is mounted longitudinally to drive the rear wheels). This potent power-plant gives the Primo an immense top speed, on par with full-on sports cars. The Primo's underpinning is its body roll and small, weak brakes. The Primo's acceleration and handling are also poor and un-sporty and it suffers from a problem similar to the Emperor in which the rear swings frenziedly on sharp turns - but even worse, the car feels heavily planted on the ground, therefore, if the turning is done smoothly, the Primo will do a very wide turn, the only possible workarounds are to start drifting yards before where the desired turn is or to slow down. This car is thus very unfavorable for driving at high speeds, leading this vehicle to be better suited towards missions where a getaway vehicle is not required, friend "hangouts" and city driving.
Due to its sturdy build, the Primo is able to take a few direct frontal hits without stalling or setting alight.
GTA IV Overview
Acceleration
(0 - 60mph / 0 - 100km/h)
Top Speed
(mph / km/h)
Engine Details
(Layout/Type/Decal Detail)
Drivetrain
(AWD / FWD / RWD)
Gears
(Number + Type)
Mass
(Kg / lb)

n/a

Top Speed (Handling.dat)
n/a
Top Speed (Tested)
n/a

Supercharged V8 (Badging)
FR V8 (In-game model)

Drivetrain (Handling.dat)
n/a
Drivetrain (Tested)
RWD

Gears (Handling.dat)
n/a
Gears (Tested)
5

n/a
Grand Theft Auto V
The performance of the Primo seems to be the same as in GTA IV, with the exception that it's mostly outclassed by other similar cars. However, it retains its resistance to crashes.
GTA V Overview
Source
Acceleration
(0 - 60mph / 0 - 100km/h)
Top Speed
(mph / km/h)
Engine Details
(Cubic Capacity/Layout/Type)
Drivetrain
(AWD / FWD / RWD)
Gearbox
Number + Type
Mass
(Kg / lb)

Defined/Claimed
(i.e. Game data definitions, or claimed in-game.) (Claimed Top Speeds)

n/a
87 / 140 (Handling.dat)

Supercharged V8 (Badging)

RWD

5

1800 / 3968

Observed/Tested
(i.e. recorded/tested using in-game data.) (Observed Top Speeds & Acceleration Times)

16.8 Seconds
95 / 152

FR V8 (Cover)

RWD

5

Mass cannot be observed.
Modifications
Grand Theft Auto: San Andreas
The Primo can only be modified in a TransFender garage.
Type
Upgrade
Cost
Color
Car Color 1 (64 different colors)
$ 150
Vents
Oval Hood Vent
$ 150
Exhausts
Large Exhaust
$ 250
Medium Exhaust
$ 200
Twin Exhaust
$ 300
Upswept Exhaust
$ 400
Nitro
2x Nitrous
$ 200
5x Nitrous
$ 500
10x Nitrous
$ 1000
Spoilers
Worx
$ 200
Alpha
$ 250
Pro
$ 400
Wheels
Import
$ 820
Atomic
$ 770
Ahab
$ 1000
Virtual
$ 620
Access
$ 1140
Off Road Wheel
$ 1000
Mega
$ 1030
Grove
$ 1230
Twist
$ 1200
Wires
$ 1560
Car Stereo
Bass Boost
$ 100
Hydraulics
Hydraulics
$ 1500
Grand Theft Auto V
Type
Upgrade
Cost (Story)
Cost (Online)
Armor
Armor Upgrade 20%
$500
$4,500
Armor Upgrade 40%
$1,250
$7,500
Armor Upgrade 60%
$2,000
$12,000
Armor Upgrade 80%
$3,500
$21,000
Armor Upgrade 100%
$5,000
$30,000
Brakes
Street Brakes
$2,000
$4,000
Sport Brakes
$2,700
$5,400
Race Brakes
$3,500
$7,000
Bumpers
Custom Front Bumper
$500
$1,000
Custom Rear Bumper
$500
$1,000
Engine
EMS Upgrade, Level 1
$900
$1,800
EMS Upgrade, Level 2
$1,250
$2,500
EMS Upgrade, Level 3
$1,800
$3,600
EMS Upgrade, Level 4
$3,350
$6,700
Exhaust
Chrome Tip Exhaust
$375
$750
Big Bore Exhaust
$899
$1,800
Titanium Exhaust
$1,499
$3,000
Grille
Chrome Grille
$375
$750
Sports Grille
$670
$1,340
Mesh Grille
$825
$1,650
Lights
Xenon Lights
$300
$3,000
-
-
Loss/Theft Prevention
Tracker
N/A
$2,000
Full Coverage
N/A
$1,125
Respray
-
-
Sell
Sell Vehicle
N/A
$900
Skirts
Custom Skirts
$415
$830
Spoiler
Low Level Spoiler
$275
$550
High Level Spoiler
$350
$700
Suspension
Lowered Suspension
$500
$1,000
Street Suspension
$1,000
$2,000
Sport Suspension
$1,700
$3,400
Competition Suspension
$2,200
$4,400
Transmission
Street Transmission
$2,950
$5,900
Sports Transmission
$3,250
$6,500
Race Transmission
$4,000
$8,000
Turbo
Turbo Tuning
$2,500
$30,000
Wheels
-
-
Windows
Light Smoke
$200
$1,500
Dark Smoke
$450
$3,500
Limo
$700
$5,000
Grand Theft Auto Online
Image Gallery
Variants
Primo Custom
The Primo Custom is a custom variant of the Primo, which features highly-advanced modifications, and hydraulics enabled, not present on the standard Primo.
Special Variants
The Primo is featured in The Ballad of Gay Tony's Drug Wars. As with all other vehicles appearing in Drug Wars, the Primo has up to five different color combinations. All of the colors are unique and cannot be obtained through Pay 'n' Spray.
Locations
Grand Theft Auto: San Andreas
Grand Theft Auto IV
Grand Theft Auto V
Grand Theft Auto Online
Trivia
General
The Primo plays the following radio stations by default when entered:
"Primo" either means raw, as in materials, or cousin in Spanish and Portuguese.

It also means "first" or "prime" in Italian.

Another Rockstar Games game, Midnight Club 2, has a character named Primo.
Primo was the name of the division of Honda dealerships in Japan where the models that the original San Andreas version of the car was based on were exclusively sold new between 1985 and 2006.
Grand Theft Auto: San Andreas
Grand Theft Auto V
In GTA V, the player can modify the Primo to look like the Spanish Lords Primo V8 Supercharged from GTA IV. Its trim and grille, however, cannot be painted.
In GTA V when changing the wheel color on custom rims, if the mesh grille is equipped, the grille will be the same color as the rims.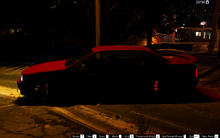 There is a bug with the Primo: when applying custom rims on the car (exposing the brakes), the calipers glow the same way as the vehicle's lights. It is more evident at nighttime, particularly in dark areas.
Grand Theft Auto Online
See Also