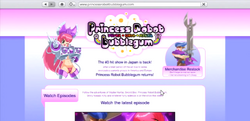 princessrobotbubblegum.com is the official website of the Princess Robot Bubblegum TV show in The Ballad of Gay Tony and Grand Theft Auto V. The site sells typical TV-show merchandise such as figurines, DVDs, clothing items, video games, trading cards, and books. The site also sells unusual merchandise such as alcoholic beverages (saké in this case), sleeping pills, and blow-up dolls.
Ad blocker interference detected!
Wikia is a free-to-use site that makes money from advertising. We have a modified experience for viewers using ad blockers

Wikia is not accessible if you've made further modifications. Remove the custom ad blocker rule(s) and the page will load as expected.