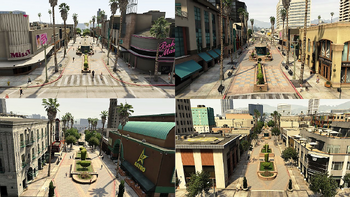 The Prosperity Street Promenade is an upscale outdoor mall bordered by Prosperity Street, Marathon Avenue, Red Desert Avenue and San Andreas Avenue in Del Perro, Los Santos in Grand Theft Auto V. It is based on the Third Street Promenade of Los Angeles.
Street performers such as mimes or guitar players can be found in this shopping and dining center.
Businesses
Miscellaneous
Gallery
Ad blocker interference detected!
Wikia is a free-to-use site that makes money from advertising. We have a modified experience for viewers using ad blockers

Wikia is not accessible if you've made further modifications. Remove the custom ad blocker rule(s) and the page will load as expected.