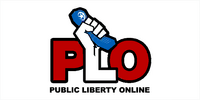 publiclibertyonline.com is the website for the liberal radio station PLR in Grand Theft Auto IV and newspaper in Grand Theft Auto V.
Description
The website focuses mainly on news from a liberal viewpoint, and is opposed to Weazel News. It has less articles than Weazel News, and most of them focus on events that weren't caused by Niko's exploits. The acronym PLO might be referencing the Palestine Liberation Organization.
Journalists
Gallery
Ad blocker interference detected!
Wikia is a free-to-use site that makes money from advertising. We have a modified experience for viewers using ad blockers

Wikia is not accessible if you've made further modifications. Remove the custom ad blocker rule(s) and the page will load as expected.