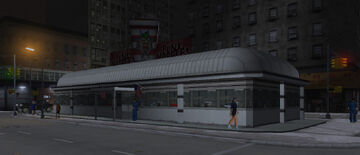 Punk Noodles is a Chinese noodle chain seen in Grand Theft Auto III and Grand Theft Auto: Liberty City Stories.
Description
In GTA III, "Chunky" Lee Chong pushes SPANK through a Punk Noodles stand in the pedestrian-only section of Chinatown, until he is killed by Claude on orders from Joey Leone. In GTA Liberty City Stories, Toni Cipriani can work for Punk Noodles as a delivery boy in a side mission using a Faggio bearing the chain's livery. Once complete, Toni will have 25% more health, indicated by a plus (+) to the left of his health bar, and they begin to pay protection money. In GTA III, it has a factory located in Pike Creek, Shoreside Vale, but in 1998, the building is the Holy rev. Joe's Flophouse.
Gallery
Trivia
Punk Noodles is obviously a parody on the name "Pot Noodles", a company that makes instant noodles.
In the beta of GTA III, instead of the diner, there was a park in its place.