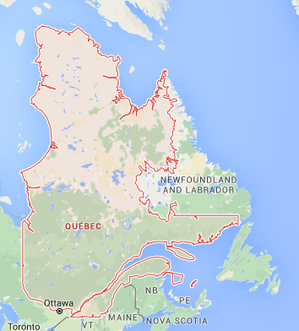 Quebec is a province in the country of Canada. It is the only province that predominantly speaks French and Quebec is the largest province by area.
Grand Theft Auto IV
Grand Theft Auto V
On Jockcranley.com, when the player scores bad on the American Patriotism test a message appears reading "if you hate america so much why don't you go live in France, part of it is in Canada" (It is likely he is referring to the French speaking province of Quebec, as it's not a part of France).
Ad blocker interference detected!
Wikia is a free-to-use site that makes money from advertising. We have a modified experience for viewers using ad blockers

Wikia is not accessible if you've made further modifications. Remove the custom ad blocker rule(s) and the page will load as expected.