RC Raider Pickup is a side mission in Grand Theft Auto: Vice City. The side mission is started when entering a Top Fun van in Escobar International Airport, denoted by a red square in the map. The objective of the mission is to get all 20 checkpoints in any order using a RC Raider helicopter. The only goal when doing the mission for the first time is to get all the checkpoints without destroying your helicopter. After that, your goal is to beat your own time in order to pass the mission. You can quit the mission by self-destructing your helicopter. The rewards for completing this is $100 and a step closer to 100%.
Trivia
When trying to get more speed, avoid pressing too much NUM9 (PC version). The helicopter will go down and will be stuck to the ground and can explode in a few seconds.
Video walkthroughs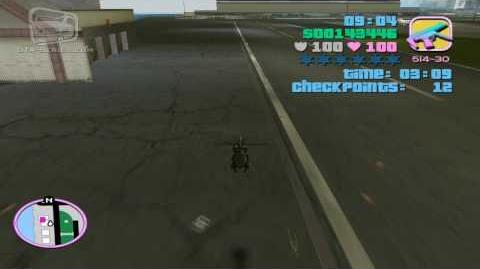 Ad blocker interference detected!
Wikia is a free-to-use site that makes money from advertising. We have a modified experience for viewers using ad blockers

Wikia is not accessible if you've made further modifications. Remove the custom ad blocker rule(s) and the page will load as expected.