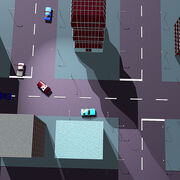 Race'n'Chase was the original concept of what would become the first Grand Theft Auto. It was developed by DMA Design, set for release on the PlayStation, Windows 95, DOS, Sega Saturn and Nintendo 64.
The game consisted on a open-world where the player would either take the role of a cop or a criminal in multiple game modes that, hence the title of the game, ranged from races to police chases.
Similar to the two first Grand Theft Auto games, it was developed on a top-down perspective and had multiple cities to be played on. The game suffered from various modifications before release and the project ended up evolving into Grand Theft Auto 1, which was released in 1997.