Radio Del Mundo is a World beat music station featuring non-English music from East India and from various other Asian and Middle Eastern countries. The DJ is Panjit Gavaskar, who is also East Indian. By 2001, the station seems to be out of business.
TracklistEdit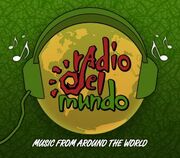 All taxis in Liberty City in Grand Theft Auto: Liberty City Stories have Radio Del Mundo as their default radio station.
Despite the Spanish name (which means "Radio of the World"), no song heard on the station is Spanish.