Redsands West is a district in Las Venturas, San Andreas. It is bordered by the districts of Whitewood Estates to the west, Prickle Pine to the north and Redsands East to the east.
Description
Redsands West provides great access to other places, because the district is nearby numerous means of transportation; Las Venturas' two main freeways, the Harry Gold Parkway and the Julius Thruway service the area. The Pilson Intersection is northwest of the district, although it does not really service Redsands West. Also, to the immediate south of the district, is the Las Venturas Airport, providing flights from Las Venturas to either Los Santos and San Fierro, and vice versa.
Redsands West can be described as a residential, industrial and commercial district. It houses an abattoir, some businesses, some homes, and even a casino and a baseball stadium for recreation.
Homes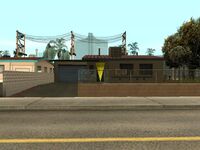 Residents
Places of Interest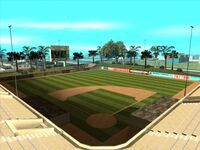 Stationary Vehicles
Weapons
Pickups
Other
Ad blocker interference detected!
Wikia is a free-to-use site that makes money from advertising. We have a modified experience for viewers using ad blockers

Wikia is not accessible if you've made further modifications. Remove the custom ad blocker rule(s) and the page will load as expected.