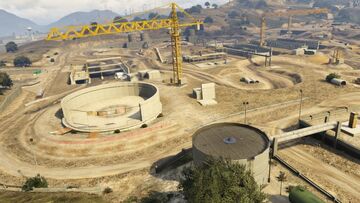 The Redwood Lights Track is a construction site and motocross track located north of Los Santos in Los Santos County in Grand Theft Auto V. The site can be reached via Senora Road and is just south of Harmony and the Blaine County line. It is south of the Los Santos Customs that Franklin can own, making it a good place to try out customized cars. Sometimes, bikers can be seen at the tracks.
The racing track area might be sponsored by Redwood Cigarettes, as reference in how Marlboro Cigarettes sponsor racing events and tracks around the world.
Events of GTA Online
Ad blocker interference detected!
Wikia is a free-to-use site that makes money from advertising. We have a modified experience for viewers using ad blockers

Wikia is not accessible if you've made further modifications. Remove the custom ad blocker rule(s) and the page will load as expected.