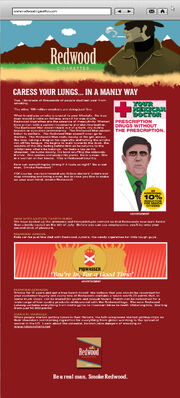 redwoodcigarettes.com is a website in Grand Theft Auto IV. It is the official site for Redwood Cigarettes, a parody of Marlboro Cigarettes.
As expected, the site encourages the consumption of the product, emphazising in manliness, masculinity and a macho pose while minimizing or ridiculizing the health risks.
It has a small section dedicated to Redwood Juniors, promotional items like beach towels and a link to Tobaccofacts.net.
Ad blocker interference detected!
Wikia is a free-to-use site that makes money from advertising. We have a modified experience for viewers using ad blockers

Wikia is not accessible if you've made further modifications. Remove the custom ad blocker rule(s) and the page will load as expected.