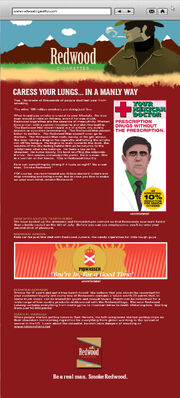 redwoodcigarettes.com is a website in Grand Theft Auto IV. It is the official site for Redwood Cigarettes, a parody of Marlboro Cigarettes.
As expected, the site encourages the consumption of the product, emphazising in manliness, masculinity and a macho pose while minimizing or ridiculizing the health risks.
It has a small section dedicated to Redwood Juniors, promotional items like beach towels and a link to Tobaccofacts.net.