The Remington is a two-door lowrider featured in Grand Theft Auto: San Andreas.
Design
The Remington is depicted as a 1970s two-door coupe, modified into a lowrider; accordingly, some Remingtons come equipped with hydraulics. The Remington generally resembles a 1977 or 1978 Lincoln Continental Town coupe (as identified by the grille and chrome), but with unhidden headlamps, and a baroque stylized rear.
Performance
Performance wise, the vehicle may be described as average. With a rear wheel drive, very low ground clearance and moderately powerful engine, the Remington has an average-to-good top speed, but is susceptible to tailspins when cornering; it is best suited for urban travel, and not to be raced off road. It can sustain quite an impressive amount of damage, and slow collisions do not seem to damage the frame too much.
A flameproof Remington can be found during the mission "High Stakes, Low Rider" for Cesar Vialpando.
Modifications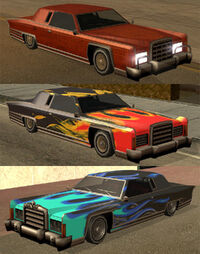 Being a lowrider, Remingtons may be modified further at Loco Low Co. in Willowfield, Los Santos. The Remington boasts unique customizations featuring chrome skull-adorned bumpers to complement the car's baroque design.
Type
Upgrades
Cost
Paint Jobs
Paintjob 1
$ 500
Paintjob 2
$ 500
Paintjob 3
$ 500
Colors
Car Color 1
$ 150
Exhausts
Chromer Exhaust
$ 3340
Slamin Exhaust
$ 3250
Front Bumper
Chromer Bumper
$ 2150
Slamin Bumper
$ 2040
Misc
Chrome Grill
$ 940
Chrome Bars
$ 860
Chrome Lights
$ 1120
Rear Bumper
Chromer Bumper
$ 2130
Slamin Bumper
$ 2050
Side Skirts
Chrome Flames
$ 780
Chrome Arches
$ 780
Wheels
Classic
$ 1620
Dollar
$ 1560
Twist
$ 1200
Wires
$ 1560
Trance
$ 1350
Cutter
$ 1030
Rimshine
$ 980
Virtual
$ 620
Access
$ 1140
Car Stereo
Bass Boost
$ 100
Hydraulics
Hydraulics
$ 1500
Nitro
2x Nitrous
$ 200
5x Nitrous
$ 500
10x Nitrous
$ 1000
Variants
In the mission Cesar Vialpando, there are three uniquely colored Remingtons owned by Varrios Los Aztecas. They were colored white with black interior, gray with dark teal interior and light blue with yellow interior. These Remingtons can also be obtained everytime the player starts the side mission Lowrider Challenge (Loco Low Co. cannot paint its seats).
Prominent Appearances in Missions
Locations
Trivia
See Also