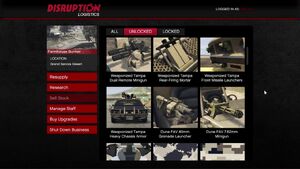 Research is a Bunker procedure in which staff can be assigned to research projects in Grand Theft Auto Online.
Overview
When supplies are gained, through Disruption Logistics, the player has the option to assign staff to managing stock, research, or both - if the player chooses the assign staff to research, they will begin to research into new projects, such as armor and weaponry, which can be unlocked. There are 51 projects to be researched, and the current research project is selected at random from the list. Each project will take hours and will consume supplies. The player can optionally spend money if they desire to complete the research, which varies on how much time it will take (an immediate fast-track research will be more expensive than when having a nearly-done progression). Only one research can be done at time. These research modifications can be applied to Weaponized Vehicles, or added to the MKII weapon conversions.
Assigning staff to both stock and research increases the research project time, while assigning staff solely to research will half the time research is completed in. The player will be notified when their current research project is complete, and they can check what has been unlocked - there is no specific order, research unlocks will be picked at random.
Research
| | | |
| --- | --- | --- |
| | This article or section is Under Construction. | |
Upgrades
Upgrade
Type
Image
Available in:
APC SAM Battery
Weaponized Vehicle Upgrade

MOC Vehicle Workshop
Ballistic Equipment
Gear

Warstock Cache & Carry
Half-track 20mm Quad Autocannon
Weaponized Vehicle Upgrade

MOC Vehicle Workshop
Weaponized Tampa Dual Remote Minigun
Weaponized Vehicle Upgrade

MOC Vehicle Workshop
Weaponized Tampa Rear-Firing Mortar
Weaponized Vehicle Upgrade

MOC Vehicle Workshop
Weaponized Tampa Front Missile Launchers
Weaponized Vehicle Upgrade

MOC Vehicle Workshop
Weaponized Tampa Heavy Chassis Upgrade
Weaponized Vehicle Upgrade

MOC Vehicle Workshop
Dune FAV 40mm Grenade Launcher
Weaponized Vehicle Upgrade

MOC Vehicle Workshop
Dune FAV 7.62mm Minigun
Weaponized Vehicle Upgrade

MOC Vehicle Workshop
Insurgent Pick-Up Custom .50 Cal Minigun
Weaponized Vehicle Upgrade

MOC Vehicle Workshop
Insurgent Pick-Up Custom Heavy Armor Plating
Weaponized Vehicle Upgrade

MOC Vehicle Workshop
Technical Custom 7.62mm Minigun
Weaponized Vehicle Upgrade

MOC Vehicle Workshop
Technical Custom Ram-bar
Weaponized Vehicle Upgrade

MOC Vehicle Workshop
Technical Custom Brute-bar
Weaponized Vehicle Upgrade

MOC Vehicle Workshop
Technical Custom Heavy Chassis Upgrade
Weaponized Vehicle Upgrade

MOC Vehicle Workshop
Oppressor Missile Launchers
Weaponized Vehicle Upgrade

MOC Vehicle Workshop
Fractal Livery Set
Weaponized Vehicle Livery

Weaponized Vehicle Customization
Digital Livery Set
Weaponized Vehicle Livery

Weaponized Vehicle Customization
Geometric Livery Set
Weaponized Vehicle Livery

Weaponized Vehicle Customization
Nature Reserve Livery Set
Weaponized Vehicle Livery

Weaponized Vehicle Customization
Naval Battle Livery Set
Weaponized Vehicle Livery

Weaponized Vehicle Customization
Anti-Aircraft Trailer Dual 20mm Flak
Weaponized Vehicle Upgrade

Anti-Aircraft Trailer Customization
Anti-Aircraft Trailer Homing Missile Battery
Weaponized Vehicle Upgrade

Anti-Aircraft Trailer Customization
Mobile Operations Center Rear Turrets
MOC Upgrade

MOC Customization
Incendiary Rounds
Weapon Upgrade

Applicable Mk II weapons
Hollow Point Rounds
Weapon Upgrade

Applicable Mk II weapons
Armor Piercing Rounds
Weapon Upgrade

Applicable Mk II weapons
Full Metal Jacket Rounds
Weapon Upgrade

Applicable Mk II weapons
Explosive Rounds
Weapon Upgrade
Applicable Mk II weapons
Pistol Mk II Mounted Scope
Attachment

Pistol Mk II Customization
Pistol Mk II Compensator
Attachment

Pistol Mk II Customization
SMG Mk II Holographic Sight
Attachment

SMG Mk II Customization
SMG Mk II Heavy Barrel
Attachment

SMG Mk II Customization
Heavy Sniper Mk II Night Vision Scope
Attachment

Heavy Sniper Mk II Customization
Heavy Sniper Mk II Thermal Scope
Attachment

Heavy Sniper Mk II Customization
Heavy Sniper Mk II Heavy Barrel
Attachment

Heavy Sniper Mk II Customization
Combat MG Mk II Holographic Sight
Attachment

Combat MG Mk II Customization
Combat MG Mk II Heavy Barrel
Attachment

Combat MG Mk II Customization
Assault Rifle Mk II Holographic Sight
Attachment

Assault Rifle Mk II Customization
Assault Rifle Mk II Heavy Barrel
Attachment

Assault Rifle Mk II Customization
Carbine Rifle Mk II Holographic Sight
Attachment
Carbine Rifle Mk II Customization
Carbine Rifle Mk II Heavy Barrel
Attachment

Carbine Rifle Mk II Customization
Proximity Mines (vehicle)
Weaponized Vehicle Gadget

MOC Vehicle Workshop
Brushstroke Camo Mk II Weapon Livery
Livery

Mk II Weapon Customization
Skull Mk II Weapon Livery
Livery

Mk II Weapon Customization
Sessanta Nove Mk II Weapon Livery
Livery

Mk II Weapon Customization
Perseus Mk II Weapon Livery
Livery

Mk II Weapon Customization
Leopard Mk II Weapon Livery
Livery

Mk II Weapon Customization
Zebra Mk II Weapon Livery
Livery

Mk II Weapon Customization
Geometric Mk II Weapon Livery
Livery
Mk II Weapon Customization
Boom! Mk II Weapon Livery
Livery

Mk II Weapon Customization