"The Vapid Retinue began it's life as a blue-collar hero: an overpowered, oversteering, gas-guzzler, built and sold for the working man. From those humble beginnings it became one of the most successful rally cars of all time. And now, all that rich history makes it prime hipster bait for the soulful one-percenter for some authenticity. Yep, that's where you come in."
―Southern San Andreas Super Autos description.
The Vapid Retinue is a vintage coupe featured in Grand Theft Auto Online as part of the Smuggler's Run update.
Design
Grand Theft Auto Online
The Retinue is heavily based on the European Ford Escort Mk. I, taking the shape of a vintage 2-door coupe. It also takes inspiration from the 1973 AMC Hornet, especially on the shape of the grille and positioning of the fog lights. The rear lights are taken from the aforementioned Mk. I, but the reverse lights have been included in the tail light group, having a layout that has loose resemblance to those found on the Lada Riva/VAZ 2107.
The interior of the car sports a dial cluster that is common on various muscle cars, but uses several accessories from race-type interiors, as evidenced from its race seats with seatbelts. Like the Panto, the Retinue has "El Quatro" tuner rims that are also available at Los Santos Customs.
Current Design Gallery
Performance
Grand Theft Auto Online
The Retinue has impressive speed and handling, which makes it difficult for it to suffer oversteer and should the Retinue oversteer, it simply corrects itself. This makes it one of the most versatile RWD vehicle for races and weaving through in and out of traffic. It is also proficient in off-road environments thanks to its engine output and decent suspension.
Like the Futo, the Retinue is powered by a four-cylinder engine bearing four throttle bodies.
GTA Online Overview



Vehicle Statistics - Grand Theft Auto V

Acceleration
(0-60 mph in Seconds)
Top Speed
(mph / kmh)
Gears
Engine
Drivetrain
(FWD / RWD / AWD)
Mass
(kg / lbs)
Fuel Tank
Size (litres)

Handling.meta

N/A
87 / 140
4
N/A
RWD
900 / 1984
N/A

Website Statements

[?]

/ Badges

N/A
N/A
N/A
N/A
N/A
N/A
N/A

Observed

[?]

N/A
N/A
4

FR

DOHC

Inline-4 w/ 4 throttle bodies (In-game model)
RWD
Cannot be observed
Cannot be observed

Rockstar Games Social Club

Speed
Acceleration
Braking
Traction
Image Gallery
Grand Theft Auto Online
Locations
Grand Theft Auto Online
Video
Trivia
General
"Retinue" means "a group of people accompanying an important person", a clear reference to "Escort".
Grand Theft Auto Online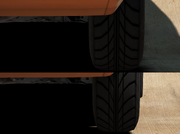 The front left wheel is wider than the front right wheel.
The Retinue can be modified to resemble Brian O'Connor's Escort Mk1 from The Fast and the Furious 6.
The "Retro Rally" livery strongly resembles the livery of Alan Mann Racing [1]
The "Team Xero" livery strongly resembles the livery of 1979 WRC championship winner Björn Waldegård [2]
The "Redwood Racing" livery strongly resembles the livery of 1981 WRC championship winner Ari Vatanen [3]
References
↑ Game Files: Light textures for the Retinue are named "cossie_lights".