The Declasse Rhapsody is a two-door hatchback, first appearing in the Grand Theft Auto IV episodic expansion The Lost and Damned.
Overview
Design
The sides and rear of the Rhapsody resemble an AMC Pacer manufactured in the 1970s, while the front bears similarities to an AMC Gremlin. The wheels appear to be aftermarket, bearing a resemblance to American Racing Ansen Sprint mag wheels.
Performance
The car handles similarly to the Blista Compact, although the Rhapsody is an FR layout vehicle, (as opposed to the Blista Compact's FF layout) with more reasonable torque, and lower top speed.
Variants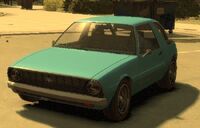 In TLAD, there is a robin egg blue Rhapsody in the mission Off Route. The car is across the street from the player after the starting cutscene. The player can obtain this uniquely colored vehicle by parking it at any safehouse without harming the completion of the mission. A tip to obtain this is to park it outside the Bellic Penthouse on Albany Avenue.
Trivia

Locations
The Lost and Damned