For the district in the Grand Theft Auto 1 rendition of San Andreas, see Richman (GTA 1). For the neighborhood in GTA San Andreas, see Richman (GTA SA).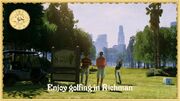 "Not a lot happens in Richman aside from out-of-touch billionaires hiding behind high walls, too terrified to leave their mega-mansions for fear of having to interact with the common man."
―GTAV digital manual
Richman is an affluent and rich neighborhood located in Los Santos.
Character
Richman like Rockford Hills is known as being one of the most affluent suburbs in all of Los Santos. It contains many large classic style mansions and is the location of GTA V's "Playboy Mansion" Richman is bordered by Vinewood Hills to the north, Los Santos Golf Club to the east, Morningwood to the south and Pacific Bluffs to the west.
Events of GTA V
Influence
The neighborhood is likely based on Bel Air and Century City.
Notable residents
Transport
Roads and Streets
Places of interest
Businesses
Collectibles
Trivia
Gallery