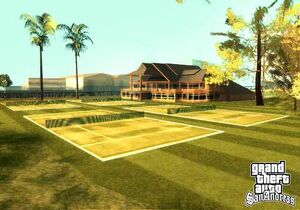 "Where the rich play golf and shower together in exclusive surroundings, and pay a fortune for the privilege."
―GTA San Andreas Website
The Richman Country Club is a Los Santos country club featured in Grand Theft Auto: San Andreas.
Description
The country club compound encompasses a large clubhouse, four tennis courts and a large walkway which is commonly traversed by pedestrians. The clubhouse is inaccessible. Despite being named for the district of Richman, the club is in fact located on Vinewood Boulevard in neighboring Vinewood.
Events of Grand Theft Auto: San Andreas
The club's makes a brief appearance in the storyline as one of the shortcuts OG Loc takes whilst being pursued by Carl Johnson and Madd Dogg during "Cut Throat Business".
The club may also appear as one of the destinations requested during the Taxi Driver side mission.
See Also