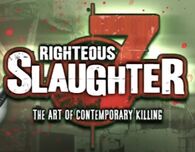 "A first person shooter like no other (Except for the Righteous slaughter 6 which was released 3 months ago)"
―Righteous Slaughter 7 webpage
Righteous Slaughter 7 is a FPS (First Person Shooter) game developed by Misfire Games for the eXsorbeo 720 console in Grand Theft Auto V.  It is a sequel to Righteous Slaugher 6, which came out 3 months before. The game seems to feature a wide variety of weapons, from assault rifles and mini-guns to feces on a stick.
The game parodies modern first person shooter franchises, specifically Call of Duty, which is sometimes regarded as being annual and repetitive. In addition to that, the game is rated as PG, standing for "Pretty much the same as the last game". It has its own accessible website, Righteousslaughter7.com.
Video
Trivia
Jimmy De Santa and Lester Crest are known to play Righteous Slaughter 7. Franklin Clinton claims he stopped playing after the first installment in the series.

Jimmy can also be found sometimes in his room playing the game. His immature insults and profanity seem to parody the stereotypical Call of Duty player.

Occasionally the trailer on the website can display "Sorry, this video is currently unavailable due to high demand. Please try again later." This is possibly parodying the pre-orders on games like Call of Duty.

Interestingly, Grand Theft Auto V managed to outsell Call of Duty Black Ops II (the biggest selling Call of Duty game at the time) upon release.

The game is not playable in the actual game. Characters like Jimmy De Santa and Lester Crest are only seen playing it.
The game's HUD and graphics slightly resembles Killing Floor.
A radio ad says there is a level that takes place in the United Nations, though in the GTA universe the UN is replaced by the Civilization Committee.
Gallery