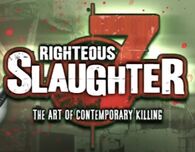 "A first person shooter like no other (Except for the Righteous slaughter 6 which was released 3 months ago)"
―Righteous Slaughter 7 webpage
Righteous Slaughter 7 is an FPS (First Person Shooter) game developed by Misfire Games for the eXsorbeo 720 console in Grand Theft Auto V.  It is a sequel to Righteous Slaugher 6, which came out 3 months before. The game seems to feature a wide variety of weapons, from assault rifles and miniguns to feces on a stick.
The game parodies modern first person shooter franchises, specifically
Call of Duty
, which is sometimes regarded as being annual and repetitive. In addition to that, the game is rated as PG, standing for "Pretty much the same as the last game". It has its own accessible website,
Righteousslaughter7.com
. Righteous Slaughter also features over-the-top gameplay that is similar to the Doom series, by the usage of extreme gore and silly weapons.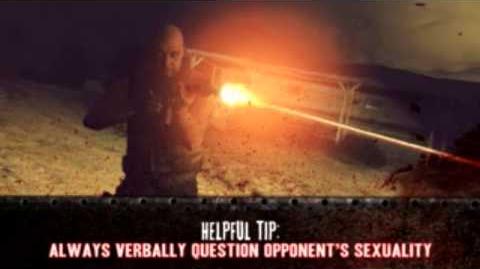 Weapons
Robinson Armament XCR w/ RIS foregrip, EOTech red dot sight, and polymer magazine
Makarov PM w/ Tactical Syringe
GE M134 Minigun w/ explosive rounds
Features
Multiple death animations, including being burnt alive (Righteous Slaughtered!) and being raped by Al-Qaeda members (Molested!)
Challenges such as "Widowmaker - Kill 100,000,000 human targets!"
Downloadable content that increases accuracy
Infecting innocent civilians with an unknown virus
DLC weapons that are completely useless (Shitstick 3000™)
Trivia
Jimmy De Santa, Lester Crest, and Cara Delevingne, the host of Non Stop Pop FM are known to play Righteous Slaughter 7. Franklin Clinton claims he stopped playing after the first two installments in the series (possible reference to many old Call of Duty fans that claim that most of the earlier games of the series were the only good ones).

Jimmy can also be found sometimes in his room playing the game. His immature insults and profanity seem to parody the stereotypical teenage player.

Occasionally, the trailer on the official website will display "Sorry, this video is currently unavailable due to high demand. Please try again later." This is also seen on Princessrobotbubblegum.com.
Righteous Slaughter 7 is not playable in the actual game. Characters such as Jimmy De Santa and Lester Crest are only seen playing it.
A radio ad says that there is a level that takes place in the United Nations, though in the GTA universe, the UN is replaced by the Civilization Committee.
One level involves a "really out-of-place flashback mission where JFK and Castro duke it out on the moon". This is likely a parody of the Zombies mode in Call of Duty: Black Ops, which does in-fact feature John F. Kennedy, Fidel Castro, and the moon as a location.
The trailer is the only time an actual terrorist organization is mentioned, Al-Qaeda, when the player is killed while using the Shit Stick 3000™.
Gallery